Deported Irene Clennell to return to husband of 27 years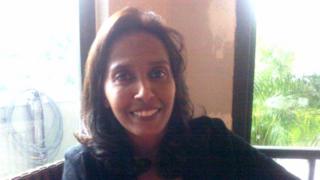 A woman who was deported despite being married to a British man for 27 years is to be allowed back into the UK.
Irene Clennell, who lived with her husband John in Chester-le-Street, County Durham, was sent back to Singapore in February because she had a visitor's visa.
Mrs Clennell said she felt like she had been treated like a "terrorist".
A spokesman for the Home Office said the 53-year-old had now been granted a spouse's visa.
Although Mrs Clennell was granted indefinite leave to remain in 1992, the couple lived together in Singapore for a number of years.
When Mr Clennell returned to the UK with their two sons, she stayed to care for her parents.
'Several applications'
Repeated re-applications for permission to stay, both from Singapore and after she managed to return to the UK, had all been rejected.
Speaking after being deported, Mrs Clennell said: "It is a bloody disgrace, they treat me like a terrorist and anything else under the sun.
"They embarrass me in front of everybody, the only thing I did wrong was marry a British man and want to stay in the country with my kids and my husband."
In a statement, the Home Office statement said: "Mrs Clennell has been granted a visa as a spouse as her latest application meets the immigration rules to enter the UK.
"This does not negate the previous decision which was the result of Mrs Clennell having entered the UK as a visitor, overstaying her leave to remain and making several applications while in the UK which did not meet the immigration rules.
"During that time, it was open to her to leave the UK voluntarily at any time in order to reapply under the correct route as she has now done."