Roman remains discovered at Newcastle housing site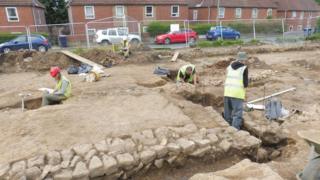 Roman remain of potential "national significance" have been unearthed on a housing site in Newcastle.
Evidence of the civilian settlement was found in the Benwell area of the city, close to where a Roman fort once stood.
The remnants of several open-fronted buildings, cobbled surfaces and water channels are among the discoveries.
Unlike other remains previously found in the city, archaeologists say the buildings at the site were made of stone rather than timber.
One is thought to have been a two-storey warehouse - the first of its kind found in the city.
Coins and pottery believed to date from the second or third century have also been uncovered; among them an almost complete amphora, which would have been used to transport liquids such as wine and olive oil.
Councillor Kim McGuinness said the authority had thought it likely the site might contain Roman artefacts but it had not anticipated their importance.
"We believe these finds could be of national significance," she said.
"We are working closely with the developers and archaeologists so the remains can be carefully examined and analysed."