Dad jailed over baby son Reggie Young's dog bite death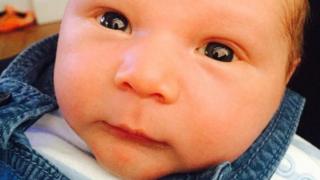 A father who was drunk and asleep when his dog killed his three-week-old son has been jailed for 21 months.
Reggie Young was mauled for up to 20 minutes at the family home in Falkland Road, Sunderland, on 20 June 2015.
Ryan Young, 32, of Holborn Road, Sunderland, previously pleaded guilty at Newcastle Crown Court to being in charge of a dangerous dog.
Judge Tim Gittens said Reggie's mother Maria Blacklin returned home to a scene of "Gothic horror".
A child neglect charge was ordered to lie on file.
The court heard the Lakeland terrier-cross, which was called Tricky, was destroyed soon after the attack.
Judge Gittins said: "Reggie was subjected to a most dreadful, torturous, confusing attack and he sustained horrific and painful injuries."
The court heard Miss Blacklin had been at a family gathering after her grandmother's death when the dog attacked her son at around 04:00 BST.
She returned home to find Reggie in a pool of blood on the floor, the hearing heard.
The court heard how Young failed to prevent the attack because he had drunk eight cans of lager and had fallen asleep, and only woke up when he heard Miss Blacklin screaming.
Reggie was blue but still breathing and paramedics were called, but he could not be saved.
Young, who refused to give a breath test, later told police: "I would not say I was drunk, more tired."
Prosecutor Shaun Dodds told the court: "The officers who arrived described the defendant as appearing drunk."
The court heard inquiries suggested the baby fell or was dragged from the bouncer and was mauled by the terrier, which had not been introduced to the newborn and may have been driven to attack by Reggie's "unco-ordinated" movements.
Mr Dodds added: "Had the defendant not been asleep in drink, he would have been able to stop the attack."
Young wept loudly throughout the proceedings. No family members were in court for the sentencing hearing.
His defence barrister Caroline Goodwin QC said: "Nothing he can do can turn back the clock and bring back his own child.
"It was all the more harrowing for the family when he carried his child's coffin before the funeral service."
The judge accepted that Young was a hard-working father and had developed depression since his son's death.