Collapsed Durham cricket stand 'had passed safety test'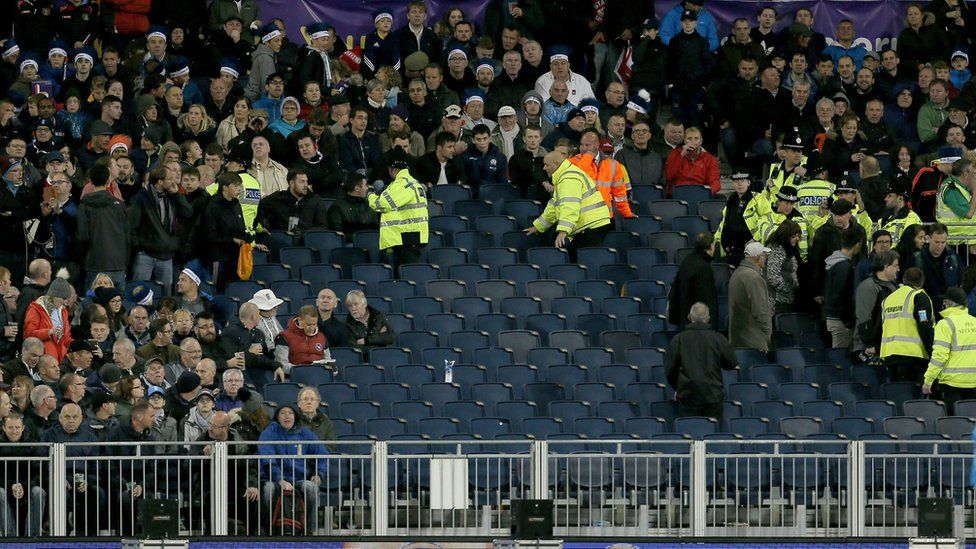 A stand which partially collapsed during an England international cricket match, injuring three people, had just passed a safety test, officials said.
One woman remains in hospital suffering from a broken leg.
In a statement, Durham County Cricket Club said the stand had passed a safety inspection in the last week.
About 200 spectators in the stand were moved to other areas of the ground as a precaution by stewards and police.
The ambulance service responded to a 999 call from the ground and took the injured woman to Newcastle's Royal Victoria Infirmary.
The club statement said: "During the course of the second innings between England v West Indies at Emirates Riverside, three spectators were injured when a small section of the North-East Terrace flooring became unstable causing them to fall.
"Stewards took precautionary action and evacuated that area of the stand efficiently.
"The stand is a permanent fixture at the venue and had passed inspections in the week prior to the match."
Spectator Christian Cerisola, who took photos of the damage, said: "The first I was aware of it was when there was suddenly a large steward and police presence."
He said he had been sitting a block away from where the hole appeared and "it was obvious they were quickly moving people out of their seats".
"People in that area will have been 12 or 13 feet above ground and it could have been quite a nasty fall," he added.
"I've been on that section of stand before for international matches and never experienced any problems."
BBC Newcastle cricket correspondent Martin Emmerson said the stand involved had originally part of the beach volleyball stadium at the London 2012 Olympics.
West Indies captain Carlos Brathwaite said after the match that some of his players felt conditions on the pitch were "unsafe" and was prepared to take an abandonment after wicketkeeper Chadwick Walton slipped while fielding, needing lengthy treatment.
The West Indies won by 21 runs as England were bowled out for 155.
The England and Wales Cricket Board has been approached for comment.
Related Internet Links
The BBC is not responsible for the content of external sites.