Freddy Shepherd funeral: Football stars honour ex-Newcastle chairman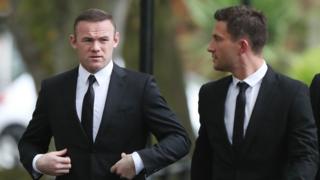 Family and friends have gathered for the funeral of former Newcastle United chairman Freddy Shepherd.
Former club captain Alan Shearer, ex-Magpies managers Kenny Dalglish and Sam Allardyce, and Everton star Wayne Rooney were among mourners at St George's Church, in Jesmond, Newcastle.
The service got under way at noon and was followed by a private cremation ceremony.
Mr Shepherd, 75, passed away at home on 25 September.
He engineered the £15m deal which took Shearer from Blackburn back to his native Newcastle in July 1996.
Paying tribute during the service, Shearer said: "It is well-documented that there was another, so-called big club after me, but it was Freddy along with Kevin (Keegan), Sir John (Hall) and Douglas (Hall) who was instrumental in getting me home.
"I left 10 years later with him as my great friend, playing for my club, breaking the goal-scoring record, living my dream.
"I can thank Freddy for all of that."
He ended his eulogy by saying: "We miss you Mr Chairman, we miss you Freddy."
Sir John Hall, who was chairman before Mr Shepherd and who teamed up with him to take over the club when it was in trouble in the 1990s, said Newcastle became other fans' second team and their brand of entertaining football "lifted Tyneside".
During Mr Shepherd's time at Newcastle, the club twice finished as Premier League runners-up, reached two FA Cup finals and enjoyed two Champions League campaigns.
In addition, he oversaw the redevelopment of an ageing stadium, boosting its capacity from about 36,000 to more than 52,000.
Local Labour MP Nick Brown told mourners Mr Shepherd created the Soccer Aid charity with Robbie Williams to help the world's poorest children, and it has raised £25m since 2004.
Away from football, Mr Shepherd was a major employer on Tyneside, having built up his offshore industry business with his brother Bruce.
On a floral tribute, Mr Shepherd's son Kenneth said his father was his best friend, adding: "My rock, Mr Charisma, Big Fred you are - but more, you are dad."