'Providence' prevented drone and plane collision, report finds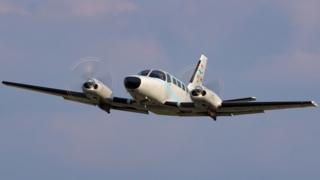 A mid-air crash between a plane and a drone was only avoided by "providence", an air safety report has said.
The drone missed the wing tip of a Cessna light aircraft by 6-8ft (2-2.5m) as it was flying over Northumberland.
The UK Airprox Board said the drone had been flown "beyond practical VLOS [visual line of sight] limits and was endangering other aircraft".
Its proximity and the pilot's "inability to avoid" it warranted the highest risk rating, the board said.
The pilot had been flying at 6,000ft (1,800m) over Bolam Lake Country Park in July.
He reported being "startled" by a "large blue object slightly to the left of his aircraft's nose at exactly the same level", the report said.
It took him a few seconds to realise it was a drone.
"He had no time to react and the drone passed down his left hand side, missing the wing tip by about 6-8ft," it said.
"Although the incident only lasted five to six seconds he estimates that the drone was one metre in length and half a metre wide.
"It was dark blue and either stationary or slow moving."
The report did not mention if the twin-engine Cessna 404 aircraft was carrying passengers at the time.