Hadrian's Wall legacy hidden under Newcastle streets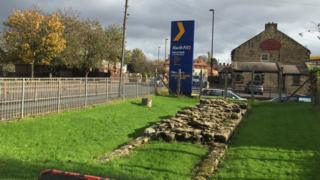 Think of Hadrian's Wall and you are likely to envisage sweeping views across a Northumberland crag rather than the urban landscape.
But the eastern end of the Roman defensive structure played a part in shaping Newcastle's street plan.
Most remains are hidden underground, but tantalising glimpses can still be seen in the most unlikely places.
They include a garage forecourt, a housing estate, and a shopping street and more remains are being found.
At the beginning of October, a stretch was discovered outside the Mining Institute on Westgate Road, where excavations were carried out prior to restoration work at the Victorian building.
It was reportedly last seen during work at the site in 1952, but there was some controversy as to whether it really was part of Hadrian's Wall.
Those working on the latest finding have now confirmed that it is, and how it shaped the city streets.
Nick Hodgson, author of Hadrian's Wall on Tyneside, said: "It's wonderful to see the wall again in the centre of Newcastle.
"If you think of it in the east end between Wallsend and city centre there are two major roads, Fossway and Shields Road.
"The reason they're both so long and straight is because they're following the line of Hadrian's Wall.
"Then again, in the west end you can see the route on Westgate Hill and through Benwell."
An excavated section of a crossing of the Vallum - a great ditch that protected the south of the wall - can be seen in Denhill Park in Benwell.
Anne Onyskiw Maguire grew up in the cul-de-sac, and said she had wonderful memories of living there, with the "added excitement" of having a Roman ruin to hand.
"The key holder lived in one of the houses, and we'd take turns to knock on the door to ask to get in", she said.
"We had all sorts of mysterious adventures playing around it - pretending there were monsters hiding in the ditch.
"We felt very privileged to have a piece of history on our doorstep."
Her mother Louise, who still lives on the street, said: "You often see tourists coming down the street to look at it.
"It's too narrow for coaches so they park at the top and wander down. I'll often see them peering into my garden too as they go past.
"They seem to be many different nationalities - I've seen Chinese, Japanese, Germans, it must be on a list."
Segedunum in Wallsend marks the eastern end of the wall, but it was originally part of Newcastle, next to a river crossing.
Nick Hodgson said: "In some ways the most interesting and evocative thing to think about is this Roman bridge, which is what gave Newcastle it's original name - Pons Aelius.
"Roughly where the current Swing Bridge stands, it was probably a very impressive stone arch structure, with columns and architectural embellishments.
"Sadly not a trace of it remains, but it would have been an amazing sight."