Mark Shaw murder: Keiran Adey and Zoe Warren jailed for life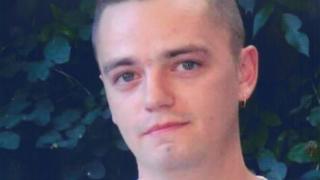 Two people who tied up, bit, bludgeoned and stabbed a County Durham man to death have been jailed for life.
Mark Shaw, 29, was found at his home in Grange Villa last December having suffered more than 80 injuries.
Keiran Adey, 19, of Queen Street, Grange Villa, and Zoe Warren, 20, of Chipchase, Washington, near Sunderland, were convicted at Newcastle Crown Court.
The pair were ordered to serve a minimum of 17 years.
Warren was also found guilty of witness intimidation.
A post-mortem examination revealed Mr Shaw died from blood loss resulting from two stab wounds to his back.
Judge James Goss said it was impossible to determine which of the pair had inflicted the fatal knife wound, but whoever did had meant to kill him.
He also said that neither defendant had shown remorse.
Warren - who had been in a short-lived relationship with Mr Shaw and was living in his house - had told police she was present when he was being attacked by Adey but claimed she did not join in.
Adey, meanwhile, claimed his co-accused attacked Mr Shaw with a pool cue before stabbing him in the back.
The jury heard Warren had later bragged she had "got away with murder".
Threats over £5 debt
Adey also boasted he had given someone "a good kicking".
The court had also heard that Adey had threatened Mr Shaw over a £5 debt - between them Warren and Adey had more than 90 previous convictions.
All three were Class A drug users, jurors were told.
Mr Shaw's family said, in a statement after the case, that he was "kind and funny and was greatly missed".
It added: "He was harmless, loved his family and was never violent. He never saw bad in anyone. Mark is adored and always will be. We will never be able to fill the emptiness in our hearts.
"This is the cruellest, most traumatic, beyond-words thing that could have happened."