Newcastle scientists eye-up cornea 'breakthrough'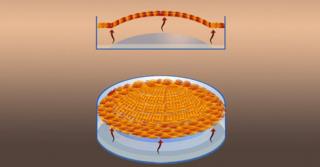 Artificial corneas have been grown using a new method described as "revolutionary".
Scientists at Newcastle University have developed a process they say makes them fit better and offer better vision.
Lead researcher and Professor of Tissue Engineering Che Connon said this had "never been seen before".
Cells grown on a curved rather than flat surface were "crawling over the dome in a lattice-like structure, similar to a pie crust", he said.
The cells produced "large amounts" of aligned collagen in the same way it is found in a human eye, Prof Connon said.
"There were no easy ways to recreate it in a dish - until now," he added.
The corneas, which are stronger and more transparent than previous artificial versions, take three months to produce.
The "breakthrough" could solve the shortage of donated human corneas in the UK, Europe and the USA, the university said.
The increase in laser eye surgery, which makes corneas unusable for transplant, has reduced the supply, it added.
The new technique also provides an alternative to plastic corneas, which the body can reject.
It could "revolutionise how artificial tissues are traditionally grown in laboratories around the world", the university said.
The research, published in the journal Advanced Biosystems, was conducted with scientists from the University of California.
Newcastle University first author Dr Ricardo Martins Gouveia said the research suggested "we will be able to produce corneas that are more similar in shape and form to the natural eye".
"We think our team will be able to test these in humans within two years."