Lugworm 'love life' spies sought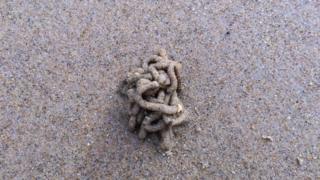 "Citizen scientists" are being sought to keep an eye out for signs of passion in the lugworm community.
Newcastle University is asking people to take part in the Capturing our Coast (CoCoast) survey to find out more about how the marine creatures mate.
Volunteers are asked to count casts and other signs of the lugworms' presence.
Data should be collected every three days until 1 December, and the CoCoast team is especially keen to get findings from Cullercoats and Cresswell.
The lugworm - Arenicola marina - spends its life burrowed deep in the sediment, so opportunities to find the perfect mate are limited.
Instead, the males release sperm which collects in "puddles" on the surface of the sand, which are washed down into the burrows of the females when the tide comes in.
Not a lot is known about the specific environmental conditions this requires to be successful, and it is hoped that the survey - now in its second year - can shed light on the process.
Dr Jacqueline Pocklington, CoCoast project co-ordinator at Newcastle University, said last year's results were "not what we expected" and the signs of the lugworms were seen "quite patchily from shore to shore in different regions".
She added: "We urgently need more surveys again this year to better understand what is affecting the worms' reproduction."