Bronze Age skeleton found by Rock farmer preparing field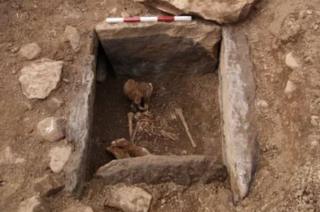 A farmer unearthed a buried Bronze Age skeleton while preparing his field for drainage.
The remains of the man were discovered in a stone burial cist about 1ft (30cm) below the field's surface at Rock, near Alnwick, in Northumberland.
The farmer dislodged the capstone while tramlining the field and initially thought he had found a fox hole.
Conservationist Jessica Turner said it is believed the Bronze Age man died when he was about 20.
Ms Turner, who works for the Northumberland Coast Area of Outstanding Natural Beauty, said a beaker pot found next to the man's head helps date the burial to about 1,500BC, although more investigation is needed.
She said it was a typical Bronze Age burial, but some of the bones were covered in a "remarkable fungal growth".
Ms Turner also said it was not clear what settlement the man had lived in or where the five large stones that formed the cist had come from.
Further research on the skeleton is being carried out by the University of Derby.