Northumberland ancient rock art protected by modern app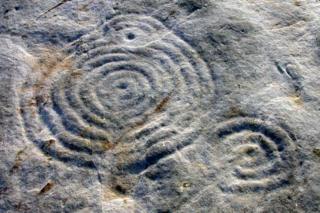 Ancient rock art is to be protected with an app designed by Newcastle University software experts.
Also known as "cup and ring" marks, it is under threat from agriculture and climate change, the academics say.
The app uses GPS to pinpoint a site and users can add information about the example's condition and surroundings.
University reader in heritage studies Dr Aron Mazel said, with the prevalence of smart phones, "creating an app was the obvious way to solve the problem".
"Previously, any reporting was done on paper and that's not always practical when you're in the middle of the countryside and there's a heavy wind," he said.
There are about 1,200 examples of rock art in Northumberland, out of more than 6,000 in the UK and Ireland.
They were produced in the Neolithic and Bronze Ages, between 4,000 and 6,000 years ago.
The university warned in 2013 that the UK's warmer and wetter climate was making the stones deteriorate.
The new app can be used to log damage to the rock art and whether it is at risk from animals or vehicles.
Where there is no mobile phone signal, information is saved and uploaded once back within range of a network.
The reports are then routed to heritage officials in the relevant county.
University visiting fellow Dr Myra Giesen said the app was both useful for raising immediate concerns and for providing a "baseline".
"This means we'll be able to monitor how the rock art is doing over a period of years," she said.