New Northumberland woodland haven for red squirrels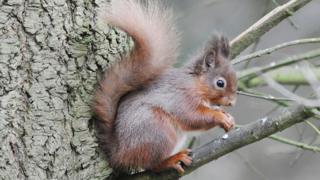 A new forest in Northumberland will boost the red squirrel population, bring jobs, and help manage flood risk, the Forestry Commission has said.
The 860-acre site - equivalent to 650 football pitches - at Doddington North Moor, near Wooler, will be the largest of its kind created in England for more than 30 years.
It will consist of more than 600,000 spruce, birch, pine and oak trees.
Planting will start in March and continue for two to three years.
The scheme, developed with the help of government funding and grants for planting will also help store 120,000 tonnes of carbon.
Environment minister Therese Coffey said: "Doddington North Moor will make a significant contribution to our drive to plant 11 million trees across the nation and is a fantastic example of the kind of tree-planting schemes we want to see more of.
"I hope this will signal a wave of similar projects to come forward and help other landowners realise the benefits of woodland creation."