Three generations of same family die in a month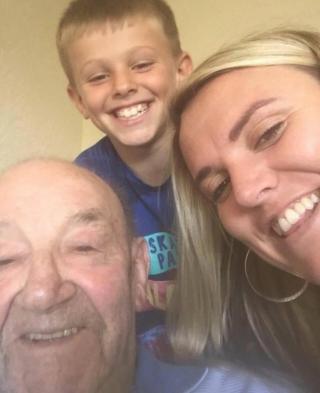 Three generations of the same family have died within a month.
Ashley Tomlin, 32, from South Shields, collapsed on Monday, four weeks after her son and grandfather died within 24 hours of each other.
She and 10-year-old Jak Fada both suffered a ruptured heart artery. Her grandfather, James Tomlin, was 93.
Keith Tomlin, Ashley's father, said: "I've just got to do what I was telling my daughter to do - keep positive, think about them in your heart."
He added: "I'll tell you what, it's easier saying than doing it for sure."
His own father's death, at 93, was "the natural progression of things, sad as it is", he said.
'Broken heart'
"Sadly, 22 hours later, my grandson had a ruptured artery and they got him into hospital but they couldn't resuscitate him and he went into cardiac arrest," he said.
"It's exactly the same thing that's happened to my daughter. The coroner did say it's a broken heart."
Jak, an only child, had a heart operation when he was three but was given the all-clear a year later.
"They are looking to see if it's passed on," Mr Tomlin said.
Jak, his mother and his great-grandfather had supported the local football team South Shields FC.
Mr Tomlin said the club had been "fantastic" in helping the family "through that terrible time".