Hartlepool teacher banned over Washington pupil affair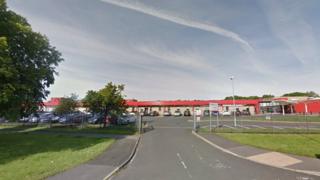 A teacher who had an affair with a "vulnerable" pupil has been banned from the profession for life.
David Fenwick, who taught history at Oxclose Community Academy in Washington, Tyne and Wear, first kissed the 16-year-old girl at her prom.
The National College for Teaching heard the relationship went on for several months but ended after the girl told another teacher.
Mr Fenwick, 44, of Hartlepool, was found guilty of serious misconduct.
The misconduct panel also ruled there was a risk of repeat behaviour.
Mr Fenwick, who did not attend the three-day hearing, was sacked in February 2016.
'Blatant disregard'
An email from Mr Fenwick's legal representative indicated he accepted he failed to maintain professional boundaries and had inappropriate contact with the pupil.
The panel heard Mr Fenwick sent the girl explicit messages including one video of him miming the words to the song I Will Always Love You.
He also regularly took her out in his car to perform sex acts.
Other pupils said he "frequently breached the boundaries of the usual pupil-teacher relationship".
Panel chairman Michael Lesser said: "It was clear Mr Fenwick abused his position of trust as a teacher, he targeted a vulnerable pupil who was aged 16 at the time.
"Mr Fenwick demonstrated a blatant disregard for his duty of safeguarding and protecting [the pupil's] well-being."