Durham's cremated metal body parts recycled for charity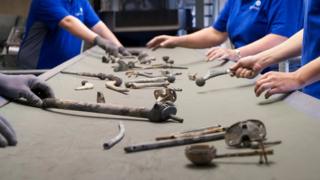 Metal body parts left over after cremations have been recycled to raise £10,000 for charity.
Coffin fixings, orthopaedic and dental implants and artificial joints have been collected with consent from bereaved families.
Durham County Council bereavement services manager Graham Harrison said it was "massively indebted" to them.
"Their consent, given at this difficult time for them, does mean that good causes continue to benefit," he said.
Mountsett Crematorium and Durham Crematorium in County Durham donated £5,000 each to stillbirth and neo-natal death charity Sands and the North of England Children's Cancer Research Fund.
The county council has been recycling metals with Dutch firm OrthoMetals since 2006.
"It makes a huge difference to the communities it serves, all while making the least possible impact on the environment," the authority said.