Sunderland's Roker Pier reopens after repairs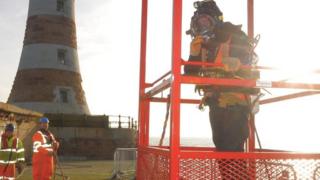 A Grade II-listed pier has reopened after major repairs for storm damage.
Roker Pier in Sunderland has been closed since gale-force winds and waves washed away 100m of railings and stone on 6 November 2016.
Work on the entrance to the pier tunnel is also almost completed and public tours of the tunnel and lighthouse will begin in 2018, Sunderland Council said.
The 1,998ft (609m) long structure was described as a triumph of engineering when it opened in 1903.
Sunderland Council cabinet secretary Mel Speding, said: "It's fantastic to see the pier reopening to the public.
"It's always been one of Sunderland's best-loved landmarks and I know people have been looking forward to its reopening."