Great Exhibition of the North: Water fountain to launch event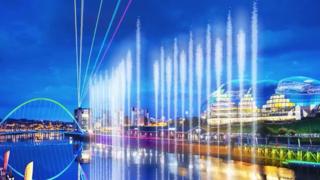 An 80m (260ft) long water fountain on the River Tyne will form the centrepiece of the launch of the Great Exhibition of the North, it has been announced.
The attraction will be situated between the Tyne and Millennium bridges, which span Newcastle and Gateshead quaysides, with the first display on 22 June.
It will be soundtracked by three specially-commissioned pieces of music.
Organisers hope three million people will visit the £5m exhibition.
It aims to highlight art, design and innovation from the north of England and will run for 80 days.
A poem billed as an "anthem for the North" by playwright Lemn Sissay will also be unveiled on the opening day, as well as three themed walking routes across the area guiding visitors to attractions.
Describing it as a "family event", Carol Bell, the exhibition's executive director, said she was confident it would attract a large number of local people as well as visitors from further afield.
"We think it is a real showcase for innovation, whether that's through digital technology, great artists or the strength of inventions," she added.
Following the launch event, the fountain will run several times each day with evening performances including a light display.
It has been designed by a Morecambe-based company which worked on a similar feature for the 2012 London Olympics.
John Lennon's piano and the space suit of Britain's first astronaut, Helen Sharman, will be among the exhibition's major attractions.
Additionally, Robert Stephenson's early steam locomotive, The Rocket, will return from the Science Museum in London to Newcastle, where it was built.
The full programme of events will be announced at the end of February.