Newcastle bar drug dealers 'given celebrity-like status'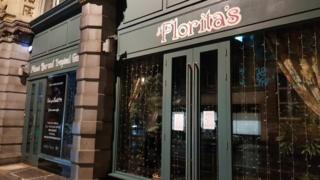 Drug dealers "moved freely" through three city centre bars and were given "almost celebrity-like status", a police report has claimed.
Northumbria Police carried out an undercover investigation after reports of drug dealing at House of Smith, Florita's and Madame Koo in Newcastle.
All were handed closure notices in December, and the council's licensing sub-committee has now held a hearing.
Members decided to suspend the premises' licences for one month.
The bars' owner, Apartment Group, has said it will appeal against the decision.
A report was sent to the city council ahead of the licensing sub-committee hearing.
It included statements from undercover officers who said they had interacted with staff in the three venues and were sold class A drugs.
One officer described how drug dealers "hugged and greeted" door staff, promoters and bar staff, and were able to by-pass the paying queue and access the VIP area without being searched.
Once inside, they "moved freely" through the premises and were given an "almost celebrity-like" status, the report said.
As part of the investigation into the supply of class A drugs at bars and nightclubs in Newcastle £17,000 in cash and cocaine with a street value of £14,000 was seized.
After the hearing, a spokesman for the Apartment Group said: "We are very disappointed with the council's decision, especially as we have worked closely with the police who are fully satisfied with the actions we have taken and have no issue with us continuing to trade.
"We will be robustly appealing the decision and the premises will continue to remain open.
"The three members of our street sales team involved in the investigation were immediately dismissed and all of our policies and procedures have been enhanced to ensure that issues of this nature do not occur again."