Emily Davison: Suffragette statue planned for Morpeth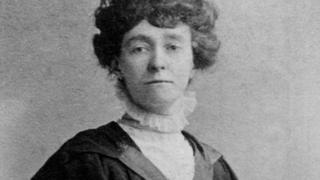 A statue to the suffragette who died after throwing herself in front of King George V's horse is to be erected.
The memorial to Emily Davison, who died four days after being trampled at the Epsom Derby in 1913, will be placed in Carlisle Park, Morpeth, Northumberland.
Northumberland County Council has pledged £50,000 towards the statue.
It is hoped the monument will be in place by July to coincide with the centenary of women getting the vote.
Before her death Miss Davison was frequently arrested and even imprisoned for her part in demonstrations in support of the Women's Social and Political Union.
She is buried in a family plot in St Mary's Church Yard in Morpeth.
Since that time, while an annual commemoration of her life takes place in Morpeth, no prominent memorial to her life and achievements - other than her grave - has been present in the town.
A spokesman for the county council said information panels about the suffragette movement will also be erected in the park.
Councillor Glen Sanderson, ward member for Longhorsley where Miss Davison grew up, said: "Emily Davison was a true local hero who brought about votes for women, and it is right that we recognise her achievements - especially in this centenary year."