Northumberland County Council unveils £17m headquarters update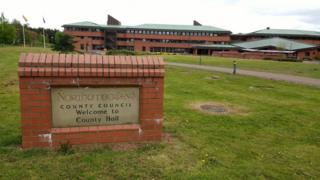 Northumberland County Council has unveiled plans to refurbish its Morpeth headquarters at a cost of £17m.
The Conservative-led authority said the buildings, dating from 1981, need updating and the scheme would reduce its running costs.
It said it also intends to rent part of the complex to private businesses.
Last summer the administration abandoned a plan to move to Ashington, which had been drawn up in 2016 when Labour controlled the council.
This would have seen the County Hall site in Morpeth sold to developers with 200 houses, shops and a school planned, although the developer pulled out in April last year citing concerns over "current market conditions".
Councillor Peter Jackson, Conservative leader of the council, said: "Between 900 and 1,200 people work here every day and we want to give them an environment that's fit for purpose so they can work more efficiently and effectively."
However, Labour councillors have described the premises as "unsuitable" and said a new building at Ashington would have been "far better".
Councillor Grant Davey, leader of the Labour group, said: "The ceilings are too low here for modern-day wiring and IT, whereas the Ashington site was designed around modern-day communications."