Northumberland Bronze Age skeleton: Whose bones are these?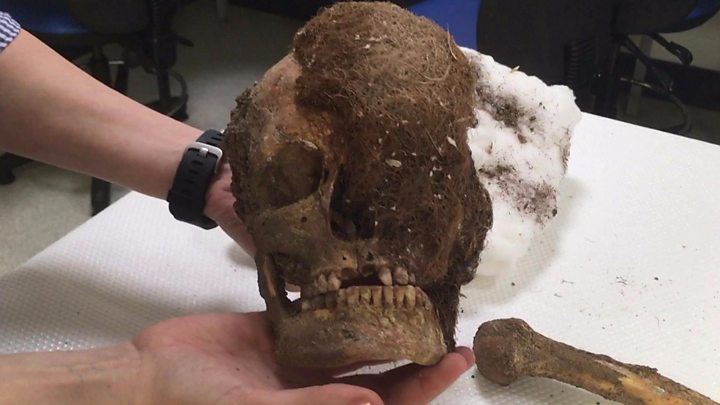 Forensic scientists have been analysing Bronze Age bones found in a field - but how do they work out who the person was?
In September 2017, a farmer near Rock, Northumberland, preparing his field for drainage discovered a burial cist - or stone coffin - containing a skeleton and a jug.
Sanita Nezirovic, a lecturer in forensic science at the University of Derby, was tasked with finding out whose bones they were.
She has looked at the remains of hundreds of people, dating from the Bronze Age to modern times.
In each case she creates a "presumptive profile", detailing facts such as the person's sex, age and height.
These are determined on the balance of probabilities: for example, if she has a pelvis and a skull of someone over 18, then she can be 90% accurate on their sex.
In this case, Ms Nezirovic had the skull and various other bones which, from the state of fusion, she could determine to be an adult. A more specific age will be sought later.
The bones had been largely preserved by some form of blanket, possibly horse hair, used to cover the body when it was buried.
The first job is determining a sex.
Looking at five points on the skull, such as the brow, chin and crest at the back of the head, Ms Nezirovic grades its features out of five, one being feminine and five being masculine.
She is 60 to 70% satisfied the Rock remains belonged to a man.
And he was a handsome one as well.
"The shape of his head is beautiful, and you can see from the teeth he would have had a perfect smile," she said.
"This was a good-looking chap."
Her next job was determining the age.
The development of a flake of bone on the clavicle allows her to say he was aged between 17 and 21.
"That's not a bad age range at all," she said.
"It's better than the 29 to 89 range, which might sometimes be the closest we can get to."
Next Ms Nezirovic attempted to work out his stature or height.
The most complete remaining bone is the tibia, Measuring that and applying a formula to it provides a height range of between 1.72m and 1.79m.
There are no obvious signs of trauma so it is not possible to say how he died.
But, by looking at the area around the nose and forehead, it can be determined he was a Caucasian.
And the circumstances of his burial would suggest he had been an important man.
"He was on his own, had a beaker buried with him and was covered," Ms Nezirovic said.
"All of these things suggest he was not an ordinary man; he would have been someone.
"He is absolutely stunning."