Gateshead sex doll firm investigated over licence concerns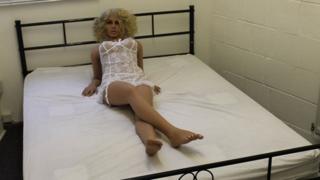 A business selling adult sex dolls is being investigated over concerns it could be operating without the correct licence.
The owner of Gateshead-based Lovedoll UK said he was "helping adults who might struggle with physical and emotional relationships".
The firm made headlines last week with a £50 "try before you buy" offer.
Gateshead Council said it was investigating whether a sex establishment licence is required.
Such a licence covers premises selling sex toys, books or videos, venues where explicit films are shown to members of the public and those where sexual entertainment such as pole dancing and strip shows take place.
'Successful businessmen'
The business's owner, who asked only to be identified by his first name, Graham, told BBC Newcastle he did not have "a typical customer".
The 40-year-old said: "It will range from people who have social problems, potentially anxiety problems, and these dolls can be a really great help for the people who would otherwise not be able to get into relationships and grow and develop and get into that next stage of life.
"That would range all the way up to successful businessmen who rock up in brand new Audis, paying cash.
"[For them] it's a little bit extra. Maybe they're between relationships and using it as a sex toy rather than anything more emotional."
The dolls, dressed in lingerie, cost up to £2,000 each to buy.
Graham, who has been running the business for three years, told BBC Radio 5 live last week that offering 30-minute "try before you buy" sessions would give potential customers "first-hand experience of whether it is something for them".
Gateshead Council said: "We are currently trying to establish the facts so that all of the relevant services and agencies can be involved and an informed decision can be made about what action, if any, the council can take."