Clasper Village demolition resumes as final resident leaves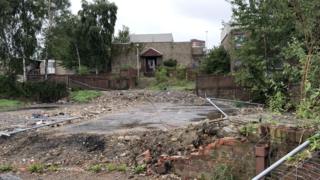 Demolition work has resumed at a Tyneside housing estate after being halted for several months as the final resident refused to leave his home of almost 50 years.
Bulldozers moved on to Gateshead's Clasper Village Estate in early 2015.
However, work came to a standstill last year with Michael Crossman declining offers from the local authority for his two-bedroom flat.
Gateshead Council said Mr Crossman left his property in December.
He had lived on the estate's Palmerston Walk since 1970 with his late wife and had been the sole remaining resident on the estate for at least six months.
On announcing its plan for the site in 2011, the council said it would be cheaper to build new social housing rather than refurbish the existing flats and tackle anti-social behaviour.
'Good memories'
Speaking to the BBC in July 2017, Mr Crossman said: "There's so many good memories of me and my wife's marriage.
"We never had an argument in our whole marriage."
Mr Crossman was described by local media as the "last man standing".