Joanne Tulip murder: Victim's mum opposes killer's parole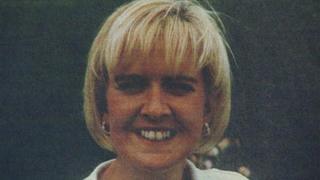 A woman whose daughter was murdered 20 years ago is urging the Parole Board not to release her killer.
Joanne Tulip, 29, was stabbed about 60 times by Steven Ling at his home in Stamfordham, Northumberland, on Christmas Day 1997.
Ling, 23 at the time, was jailed for life in 1998 but will be considered for parole later this month.
Doreen Soulsby said she was "terrified" he could be released in light of the Parole Board's John Warboys decision.
Warboys was approved for release after serving eight years for multiple rapes, although he remains in prison while the decision is appealed by several of his victims.
Mrs Soulsby said if Ling is released, she will campaign for the board to make its reasoning public, an issue again raised by the Warboys case.
Mrs Soulsby said: "The Parole Board's decision should be transparent."
At the time, Ling made a statement about having sex with Ms Tulip, whom he had met in a pub earlier that day, against her will. A rape charge against him was left to lie on file.
Mrs Soulsby said she was concerned he would not be on the sex offenders' register if released as he was not convicted of rape.
"He has committed the worst sex offence with Joanne and if he gets out and is not a convicted sex offender nobody will know what he has done," she said.
Mrs Soulsby, who will appear in person at the Parole Board hearing, said Ling was not safe to be let out.
"I never want him released," she added.
Both the board and Ministry of Justice previously said they are legally prohibited from disclosing Parole Board decisions.