Elephant bid to emulate Great North Snowdogs success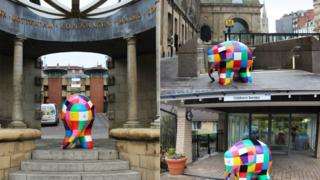 Models of patchwork elephants will follow in the footsteps of snowdogs to raise money for a North East charity.
Elmer's Great North Parade will feature dozens of individually-designed and hand-painted sculptures of the popular children's character at various locations around Tyne and Wear.
In 2016, the Great North Snowdogs trail and a subsequent auction raised £367,000 for St Oswald's Hospice.
People will be able to track down the Elmers for ten weeks from August 2019.
Since they were first published in 1989, the Elmer books, featuring the patchwork elephant, have been translated into more than 50 language and sold more than eight million copies worldwide.
'Completely bonkers'
Author David McKee said of his creation: "Elmer is really about accepting who you are, about celebrating difference. The differences are what make the world so rich."
Jane Hogan, from St Oswald's Hospice said: "When we planned the 2016 trail we always had an inkling that we might do another, but it very much depended on how the first one went.
"Then when it went out onto the streets everybody went completely bonkers and we realised it was something special.
"By the end we'd raised so much money, so much awareness of the hospice, and everybody had loved it, so much we had no choice really, we had to do it again."