Reggie Young death: Children's Social Care criticised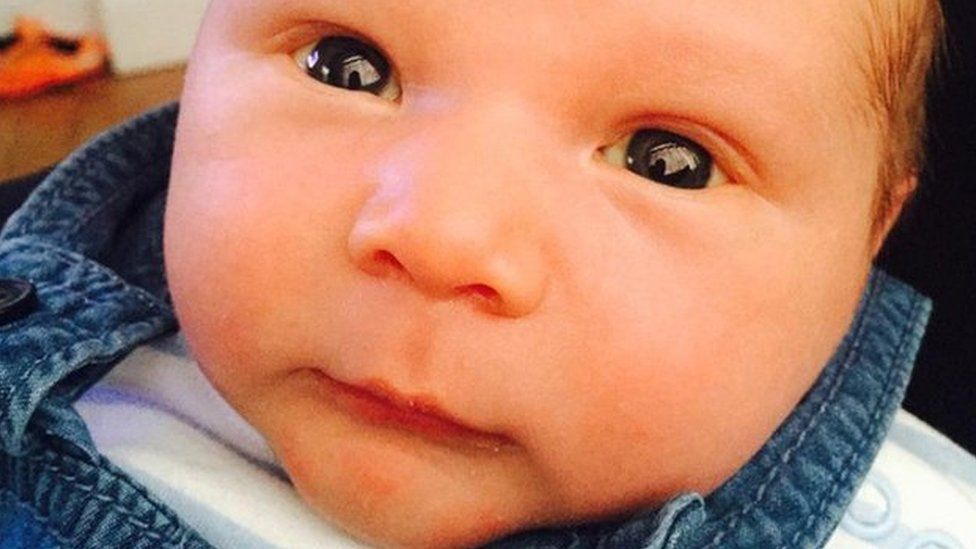 Children's services in Sunderland have been criticised following the death of a baby who was mauled by a family dog.
Reggie Young was attacked for up to 20 minutes at his home in Falkland Road, Sunderland, on 20 June 2015.
His father Ryan Young, 32, was jailed for 21 months after admitting being in charge of a dangerous dog.
Reggie's mum Maria Blacklin had been at a family gathering after her grandmother's death when the Lakeland terrier-cross called Tricky attacked her three-week-old son at about 04:00 BST.
She came home and found Reggie in a pool of blood on the floor.
The criminal case in September heard how Ryan Young failed to prevent the attack because he had drunk eight cans of lager, shared a bottle of wine and used a taxi to order more alcohol.
He then fell asleep and only woke up when he heard Miss Blacklin screaming.
Young, who refused to give a breath test, later told police: "I would not say I was drunk, more tired."
Prosecutor Shaun Dodds told the hearing: "The officers who arrived described the defendant as appearing drunk."
Today's serious case review found there was "no one risk factor" that led to Reggie's death, and no agencies could have predicted it.
But it highlighted an incident two years before when Miss Blacklin was allegedly seen hitting another of her children in a hospital waiting area.
Three health professionals, including a doctor, saw her say "Get here or I will hit you" prior to swinging the child into a pushchair and hitting it in the stomach.
The hospital notified Children's Social Care but it did not start an investigation "in accordance with safeguarding procedures", the report said.
It added that "given what was witnessed was considered to be an assault, it was surprising that no strategy meeting was convened".
The assessment that was made was "poorly conducted and superficial" and "disregarded" the fact that the incident was witnessed by three people.
A lack of a strategy meeting "resulted in no police information being accessed which would have revealed (Ryan Young's) history of anti-social offending and substance misuse".
The review said this may have flagged up his alcohol misuse but as it did not, Young was "somewhat invisible to agencies".
Sir Paul Ennals, chair of Sunderland Safeguarding Children Board, said there were "a number of contributing factors" in Reggie's death, namely alcohol misuse, the presence of a dog and an unforeseen family crisis.
"What is clear is that as professionals we need to help families to think the unthinkable when it comes to the risks that family pets can pose to children.
"We also need to make sure we educate parents and carers about the impact that drinking alcohol can have on their ability to care for their children safely," he said.
The report recommends running an awareness campaign on the impact of parents' drinking.
Taxi drivers will also be given training on reporting concerns about child welfare when delivering alcohol.
Related Internet Links
The BBC is not responsible for the content of external sites.