Treatment boost for Batten disease Newcastle toddler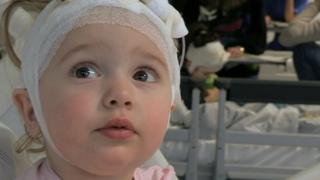 A two-year-old girl with a rare degenerative disease is now being treated at the same London hospital as her sister after previously being forced to travel to Germany for care.
Nicole and Jessica Rich, from Newcastle, both have Batten disease.
A fatal disease of the nervous system, it causes seizures, visual impairment and a loss of mobility.
Jessica was part of a trial in Hamburg while Nicole, five, has been treated at Great Ormond Street Hospital.
However, as of last weekend Jessica has joined her older sister for fortnightly treatment in London as part of a scheme funded by an American pharmaceutical company.
The girls' mother, Gail, said: "Even on the first trip it's made a big difference.
"It was a perfect Mother's Day. Normally we would be dropping [the girls' father] Matthew and Jessica at the airport and be apart, but we had the day together travelling on the train.
"The difference it's made is unbelievable, to have each other as support. It's a fantastic thing for our family."
There is no cure for the disease and children diagnosed with the illness have a life expectancy of 10-12 years.
Cerliponase alfa, which supporters say slows the progression of the disease, is not available on the NHS.
The enzyme replacement treatment currently costs about £500,000 per person per year.
Last month the National Institute for Health and Care Excellence (NICE) ruled making it available on the NHS would not be a good use of resources due to an "absence of long-term evidence about its effectiveness".
The Riches say it is vital for families "to have the security of NHS funding" and are backing efforts by the Batten Disease Family Association to raise awareness of the issue.
"We want to get our child treated in the UK," added Mrs Rich.
"Every child deserves that chance. We need it in this country."