Durham University to sell shares in fossil fuel firms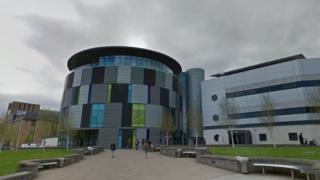 Durham University is to sell shares it holds in fossil fuel companies after a review concluded the policy was no longer compatible with its green image.
The university said it wanted to focus on becoming a "major international partner" in green energy projects.
Its investments linked to fossil fuel extraction - which it said are worth less than £1.5m - will end as soon as possible.
Pro-Vice Chancellor David Cowling said "an important decision" had been taken.
The decision was confirmed by the university's governing council after a commission was set up to reviewed divestment options and the impact it would have on the university's finances and ability to fulfil its "charitable and strategic objectives".
The commission was set up after Durham Students' Union urged officials withdraw its investments from companies involved in fossil fuel extraction.
'Progressive and responsible'
Prof Cowling, who led the commission, said: "The decision to divest from companies involved in fossil fuel extraction is an important one for the university.
"Durham is a world top 100 university, a research partner of international standing and a significant employer in north-east England. We are committed not only to divestment, but to becoming a major partner in the future development of green energy."
Megan Croll, president of Durham Students' Union, said: "I'm delighted that student ambitions for a fossil-fuel-free investment policy at Durham University have been realised.
"This success shows the power that students and staff, working together, have to make our community more progressive and responsible."
The decision means in the event of the university finding itself in the position of having such an investment in the future, for example as part of a bequest, its policy would be to sell this as quickly as is practicable.
Over the past few years, other universities, including Sheffield, Edinburgh and Glasgow, have taken similar action.