Pilgrimage held to mark St Cuthbert's Day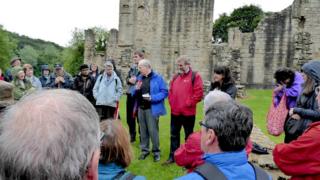 A pilgrimage has been taking place in County Durham to coincide with the St Cuthbert's Day celebrations.
The route covers more than five miles from Finchale Priory to Durham.
In the Middle Ages it was often used as a starting point for pilgrimages to the shrine of St James in the Spanish city of Santiago de Compostela.
It has now been officially recognised as a section of The English Way - a network of routes which lead towards the shrine in Northern Spain.
Resident hermit
During the Middle Ages pilgrims would arrive by sea from Northern Europe and Scandanavia and travel to Finchale Priory to learn from St Godric, the resident hermit, about the Spanish pilgrimage.
Cllr Ossie Johnson, Durham County Council's cabinet member for tourism, culture, leisure and rural issues, said: "What makes this walk particularly special is that the Xacobeo, who are the guardians of the pilgrim's way to the tomb of St James, have officially recognised that the distance between Finchale and Durham Cathedral contributes to the 100km of travelling required to receive a 'Compostela'; which is a certificate of the completion of the pilgrimage."
Once the walkers arrive in Durham, they will join a procession from the Market Place to the cathedral as part of the annual St Cuthbert's Day celebrations.