Durham Light Infantry Museum: Service held to commemorate closure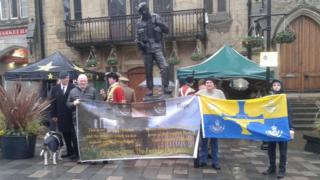 A service has been held in County Durham to commemorate the closure of a military museum.
The Durham Light Infantry (DLI) Museum shut two years ago as part of the county council's cost-cutting measures.
Campaign group the Faithful Durhams is fighting to find a permanent home for the museum's collection, which is currently split up in storage.
Hartlepool DLI Association veterans joined the group for a minute's silence in Durham Market Place on Saturday.
Wreaths were also laid to honour the regiment.
Diane Inglis, secretary of the Faithful Durhams, said: "We want the public to know we are still fighting... hopefully, we can continue working with Durham County Council and get our county's regimental history back together.
"The lads who served in the DLI deserve their sacrifice and memories to be honoured correctly and we will not give up until we get that."
Durham County Council said it and the DLI trustees took a "new, more innovative approach" to the collection two years ago and through travelling exhibitions such as Somme 1916, it was "easier to access" the collection.
It is hoped a proposed new history centre at Grade II listed Mount Oswald will house the DLI collection and the county's archives, as well as providing an exhibition space to tell the story of Durham's history.