'Mindless vandals' target Newcastle's Paddy Freeman Park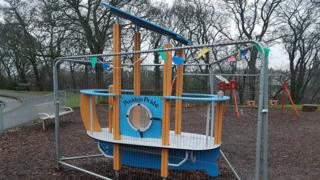 A climbing frame in a children's park in Newcastle has been vandalised on the same day it reopened.
Volunteers raised £10,000 to replace the equipment in the shape of a pirate ship in Paddy Freeman Park, after the original one fell apart.
It was officially unveiled on Thursday, only to be damaged later that night.
Chairman of the Friends of Paddy Freeman Park, Jim Patterson, said the "mindless vandals" should be made to tell local children what they had done.
He added: "I hope they are proud of themselves for making the children cry when they told they could not play on it.
"The local community and businesses have put their hard-earned cash to renew the frame, and we had a competition with the children in our local schools to draw and name it."
The volunteers are currently trying to raise £5,000 to replace musical squares on the park's ground which were damaged for a second time in December.