Frankland prison extremist separation unit 'successful'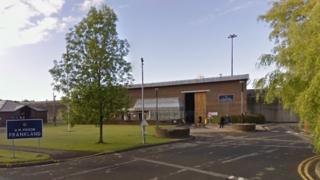 A "prison within a prison" to segregate extremists is "successful" but "claustrophobic", a report has found.
The separation centre at HMP Frankland in Durham operates as a "microcosm" of a normal jail, the Independent Monitoring Board (IMB) said.
It opened last year after the Acheson review into radical Islam in UK jails.
The IMB acknowledged that as the first of three new units it was developed under both time and budgetary pressures.
Management and staff "deserve a great deal of credit for the successful delivery of a fully functioning unit", it said.
But the centre's "compact nature... gave rise to a claustrophobic feeling" and the population ceiling guideline should be reduced, the report said.
Frankland's unit received its first prisoners in June last year.
"It will be significantly easier to deliver the further planned units in other jails following the pioneering work at Frankland and the early lessons learned," the IMB said.
Its annual report found prisoners enjoyed a "full regime with the exception of any association with prisoners outside the unit".
They work with psychologists, probation and religious leaders.
Three specialist facilities to isolate the most "subversive" individuals to tackle radicalisation behind bars were announced last year.
They will hold up to 28 prisoners combined.