Gateshead Bill Quay Farm custodian pulls out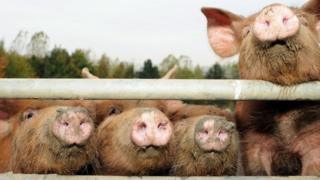 A charity has pulled out of running a northern city farm.
Bill Quay Community Farm Association "is no longer able to continue" operating the farm in Gateshead, the council said.
The authority is looking for a new custodian and is willing to explore operating the site as a farm as well as "other possible options".
Gateshead Council service director Anthony Alder said the authority was "keen" for the farm to continue.
"We know how beneficial it can be for those living in urban areas to have a farm that is so accessible," he said.
Bill Quay Community Farm has been run by the association since 1986, on a not-for-profit basis since 2013.
The working farm covers about 25 acres of grazing, paddocks and enclosures housing pigs, sheep, goats, chickens, ducks and geese.
Association chair Jenny Wood said it was running at a loss of about £330,000 a year when the charity took over.
It had managed to bring down costs and break even but was finding generating an income a "big challenge" with a small team.
"We have come close to running out of money on a couple of occasions," she said.
A specialist organisation "might have greater experience and resources to draw from in generating revenue and securing the future for the farm", Ms Wood said.