Landlord 'forced his tenants to work for free'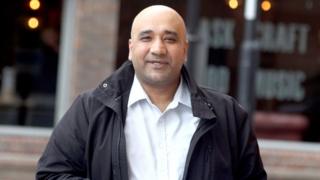 A landlord forced his tenants work in his takeaways without pay and gave them only leftovers to eat, a court heard.
Hargit Bariana exploited local men and threatened or beat them if they did not comply, Newcastle Crown Court was told.
He set them to work at Antonio's in Blyth and Valentino's in Sunderland, it is alleged.
The 46-year-old, of Netherton Colliery, Northumberland, denies eight modern slavery charges, robbery and supplying Diazepam.
The slavery charges relate to six complainants.
Mr Bariana owned a property in central Blyth which he rented to people who received housing benefit, the court heard.
One alleged victim, who cannot be identified, said he moved in after being freed from prison.
He was required to pay £20 on top of the £76 per week housing benefit he received, he told the court.
The day after he moved in, the witness said he was sent to paint a ceiling at one of the takeaways and help strip out the other.
The man, in his 40s, said he expected payment for the work but none came.
He said he ended up working in Antonio's in Blyth, opening and closing the shop, serving chips and making pizzas.
'Paid in drink'
The man, who has more than 100 criminal convictions, was asked if they were fed.
He replied: "Basically leftovers, if I wanted something during the day I could."
The witness, who is an alcoholic, said he worked more or less every day for around five months and was not paid but received a bottle of spirits every night.
The man also said Bariana gave him two Valium tablets each night so he could sleep.
Asked by the prosecution why he worked for nothing, he told the court: "I was living under his roof, I had to."
Bariana, along with Denise Lillico, 51, of Dalton Crescent, Byker, Newcastle, is also accused of supplying class C drugs.
The trial continues.