Durham police chief hits out at village green 'nimbyism'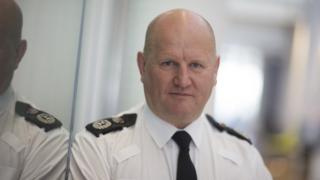 Durham's chief constable has blamed "short-sighted nimbyism" for depriving the force of a six-figure payout.
Durham County Council's Highways Committee voted six to two in favour of an application to designate land at a former police station a village green.
The Office of the Durham Police, Crime and Victims' Commissioner (PCVC) had hoped to sell the Bede Kirk site, in Barnard Castle, for housing.
Campaigners said the land was "a safe-feeling place for young and old".
Chief Constable Mike Barton said: "To say I am dischuffed on behalf of people who need policing in Barnard Castle and rural parts of County Durham really is an understatement.
"It is clear to me that to continue policing Barnard Castle and its many surrounding villages I need the six-figure sum which the sale of this land would bring in to the public purse.
"Whitehall has stripped us of money since 2010 and it is a bit rich that a local issue has now done the same.
"This is a classic case of short-sighted nimbyism and an incomprehensible decision, which we will be challenging."
Land can be formally designated a village green after a "significant number of the inhabitants of any locality" have used it for leisure for at least 20 years.
So far police chiefs have refused to put an exact value on how much the deal would have been worth to the force, the Local Democracy Reporting Service says.
However, the Durham PCVC office confirmed it had already included expected income from the sale into spending plans, which will now have to be reassessed.
PCVC Ron Hogg said he was "strongly considering" a legal challenge.
David Stacey was among campaigners welcoming the council's decision and said the site's "wide-open aspect made it popular with all ages and types of people".
"It's a safe-feeling place for young and old and people on it are there to enjoy it," he said.