Show of Sting's The Last Ship cancelled in 'contract row'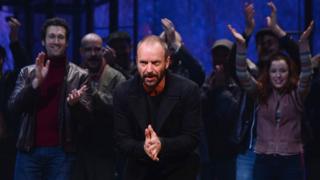 A performance of a musical penned by and featuring Sting has been cancelled in a row over contracts and costs.
The Last Ship had been due to be performed outdoors at Newcastle's Spiller's Wharf on Bank Holiday Monday.
It has now been shelved after producer Karl Sydow accused promoter SSD Concerts of failing to sign a contract, and SSD saying "last-minute" demands had pushed costs up.
The row does not affect the ongoing UK tour of the show, due to end in July.
Sting created The Last Ship as a tribute to the shipbuilding community in his home town of Wallsend in North Tyneside.
The musical tells of a group of unemployed shipbuilders who take over a closed factory to build one final ship and stars actors Joe McGann, Charlie Hardwick, from Emmerdale, and Richard Fleeshman, from Coronation Street.
Despite trying to reach a resolution, SSD said it had no alternative but to accept the decision to cancel the show, but was "bitterly disappointed".
However, a statement issued by the show's producer Karl Sydow, said he had lost confidence in the promoter.
He said: "It is of paramount importance to us that the quality and artistic integrity of the performance would be what we and the audience would expect and we do not have the necessary confidence that this would be delivered.
"Therefore we have reached the unfortunate conclusion that we have no alternative but to cancel the performance.
"We thank all of the ticket purchasers and apologise for the disappointment and inconvenience that this cancellation may cause."
In a statement SSD said: "Due to the unexpected last-minute demands of the show's London-based production team, the costs to produce the event were spiralling and unmanageable.
"We are bitterly disappointed that the Last Ship's officials have taken such a stance which poses a real financial threat to a North East-based promoter that has been behind some of the biggest live music events staged in Newcastle."
The UK tour of the musical is due to end at the Lowry in Salford in July.