Ex-Age Concern boss John Briers jailed for £700,000 fraud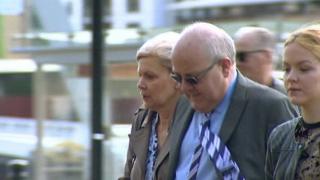 The former boss of a branch of Age Concern has been jailed for defrauding the charity out of more than £700,000.
John Briers, who was chief executive of its South Tyneside office, used fake invoices and banked unauthorised bonus payments between 2007 and 2015.
Briers, 57, from Gateshead, had denied fraud by abuse of position, but was convicted by a jury at Newcastle Crown Court earlier this month.
Judge Tim Gittins sentenced him to seven years in prison.
He said Briers, who stole a total of £708,499 from the charity, had shown "pure selfish greed".
The jury heard Briers paid 60 fraudulent cheques amounting to £433,236 into his bank account, as well as awarding himself £105,560 in 12 unauthorised bonuses, and £169,703 through 19 unauthorised top-ups to his pension.
Concerns were raised by a finance officer in August 2015 who had become worried about an invoice claiming to be from an architecture firm, the court was told.
Briers claimed he had banked the cheques as reimbursement for paying suppliers out of his own pocket and said the original invoices had been lost and replaced with substitutes.
After he was convicted, the charity said: "We are deeply saddened by this serious breach of trust and highly conscious of how much more might have been done by the local charity to help older people in the South Tyneside area if it had not happened."
The charity was established in 2016 following the transfer of services from Age UK and has about 30 staff and volunteers.
A proceeds of crime hearing is to be held later this year, the court was told.
The charity's corporate manager Graham Cassidy, who challenged Briers when he spotted a false invoice, told the court the fraud has left the branch struggling despite being rebranded.
In a victim statement, he said the charity has lost £250,000 in donations, elderly users of the service have been caused worry about whether it could continue its work and six staff have been made redundant.
The court heard the total cost to the branch was more than £500,000, as well as damage to its reputation.