Magaluf hotel fire: Four Brits appear in Spanish court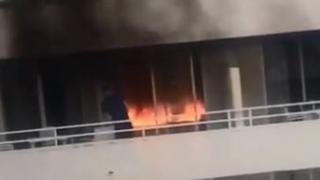 Four British holidaymakers reported to have started a large fire in a Magaluf hotel have appeared in court.
Spanish police told local media the group, from County Durham, had tried to burn a sleeping friend's feet using a lighter and aerosol can.
The hotel, on the island of Majorca, had to be evacuated.
Brandon McCahill and James Brown, both 21, Georgia James and Lauren Smith, both 19, are understood to have appeared in a Palma court on Wednesday.
Spanish authorities said more than 100 people had to leave the BH Mallorca hotel after the blaze started on Sunday.
A room was destroyed and other parts of the hotel were damaged, reports said.
The Foreign Office said it was in contact with the Spanish authorities following the arrests.
A footballer staying at the hotel saw the fire from his room and went to help rescue other holidaymakers.
Scottish Championship defender Mikey Doyle pulled two people to safety and was later treated for the effects of smoke inhalation.
The 26-year-old, from Glasgow, said "it was no big deal" and anyone would have done the same.