Michael Sancaster jailed for biting man in Sunderland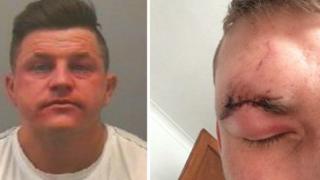 A drunken man who bit off part of a 24-year-old's eyebrow leaving a three-inch wound has been jailed.
Michael Sancaster was in the Magic Flame takeaway when he got into a row with a man and was thrown out by staff.
Newcastle Crown Court heard how the 33-year-old, from Sunderland, waited outside and bit his victim after pretending to shake his hand.
He admitted wounding with intent to cause grievous bodily harm and was jailed for three years and four months.
The hearing heard earlier in the evening Sancaster had been drinking alone at the Eazy Street bar, but was thrown out after he began to bother a woman in a hen party.
The hearing also heard that after being thrown out of the pub and then the takeaway he was "spoiling for a fight".
'Sucker-punched'
He waited outside the Magic Flame for his victim, offered him a handshake then shouted "kidding" before pushing him to the ground and attacking him, the hearing heard.
Det Con Matt Murray, of Northumbria Police, said Sancaster was a "dangerous offender".
He said: "He had found himself alone in a bar in the hours before the attack and in my opinion was looking for a fight.
"He had been thrown out of a bar for bothering a hen party and was angry when he made his way to the Magic Flame.
"There he came upon his victim and his group of friends. He tried to start a fight but they were not interested in engaging with him.
"Instead he waited outside the takeaway and sucker-punched his victim at the same time as they were trying to make peace."