Durham University student accommodation row fee protest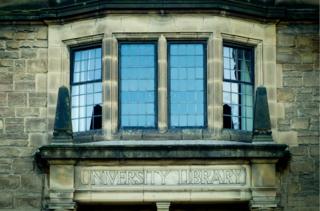 Students have protested about university-owned accommodation rent increases amid criticism too many students rent in the private sector.
Councillors have refused permission for a private six-flat student house for Durham University students.
The meeting was told there was "already enough in Durham City and they're starting to spread to the villages".
The university said a rise in rent for in-house university rooms was proposed by not formally agreed.
Pro vice chancellor Owen Adams said the charges covered "much more than just accommodation".
"Students benefit significantly from being part of a unique collegiate community for the rest of their lives," he said.
Durham University Students' Union (SU) said the fees had increased from £4,854 in 2010-11 to £7,171 in 2017-18.
President Megan Croll said a single room now cost more than a mortgage repayment on a two-bedroom new-build house in the same area.
"To many living in County Durham, they'll look at those prices [over 30% of the average yearly salary for the county] and get the message loud and clear, that Durham University, the world-class, historic university and the centre of their city, isn't a place for people like them," she said.
Financial help was available for students from low-income families, the university said.
Fees paid for staff, communal spaces for clubs and social events, and, in some cases, hot meals, it added.
At a meeting on Tuesday to discuss the private flat application Liberal Democrat councillor David Freeman said the university had "very limited interest in how students behave when they're not living on their own accommodation in colleges".
The university said it took residents' concerns "very seriously".