Sunderland Vaux Brewery: Revamp resumes after Carillion collapse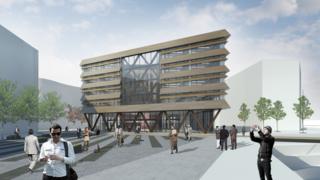 Work to redevelop a historic brewery, which stalled because of the collapse of Carillion, has restarted.
More than 300 people lost their jobs when Vaux Brewery closed in Sunderland in 1999 after 162 years.
Carillion stopped work on the site's first building, The Beam, when it was liquidated in January this year.
Tolent Construction will continue work on the 9,000 sq ft of office and leisure space, which is planned to open early in 2019.
Many of those who originally worked on The Beam are back on the site to finish the building, Tolent said.
The firm will also work on new infrastructure, a public square and continuation of artwork The Keel Line.
Originally, the first phase of the revamp was planned to be completed by June 2018 in time for the Tall Ships Race.