Sunderland Northern Spire Wear bridge delays criticised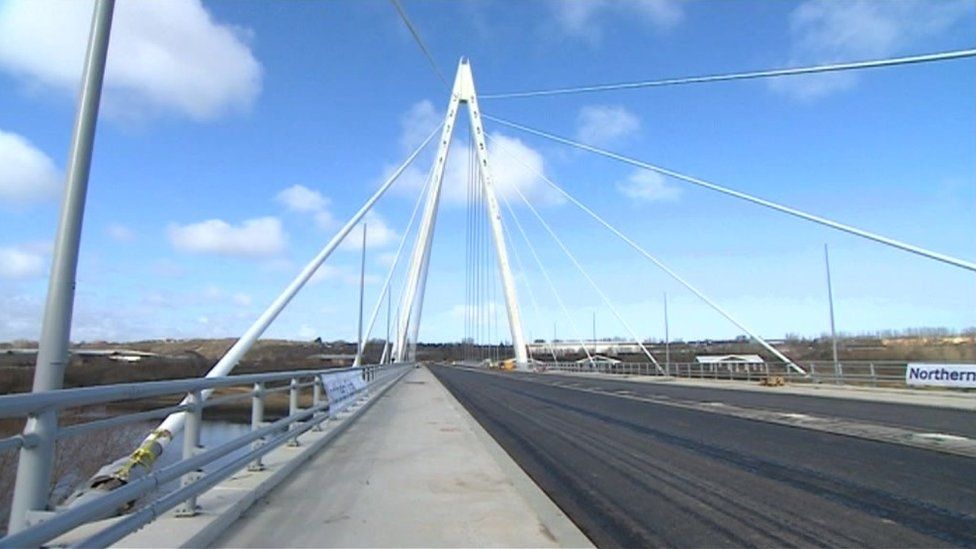 Questions are being asked about why a bridge costing £117m still has not opened to traffic.
The new crossing over the River Wear in Sunderland - called Northern Spire - was due to be finished in the spring.
Liberal Democrat opposition councillor Stephen O'Brien said it was "becoming a bit of a white elephant".
Sunderland City Council said bad weather had caused delays and painting had yet to be completed. The bridge is now due to open by the end of August.
Mr O'Brien said the "rumour mill" was starting to turn.
"People want to use the bridge but have been told hang on, hang fire, for the better part of four extra months and they're getting a bit sick of it," he said.
The council said there were no structural problems and the 330ft (100m) bridge would open once painting and inspections were finished.
Labour council leader Graeme Miller said it had lost between six and eight weeks' work "because of the Beast from the East at the start of the year".
"Until the work is done to the standard that is required to ensure that the bridge is coated properly we have to allow the contractors to continue doing their work," he said.
"While we all want to see Northern Spire in use as soon as possible, it's important that we don't compromise the finish by rushing to open."
Northern Spire, linking Castletown and Pallion, is the first bridge to be built in the city for more than 40 years.
Its pylon is twice as high as the Millennium Bridge in Gateshead and taller than Big Ben's clock tower.
Related Internet Links
The BBC is not responsible for the content of external sites.