Northumberland cottage linked to 1826 murder rebuilt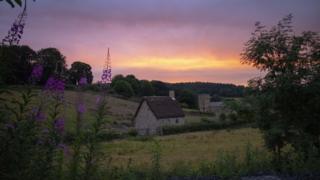 A cottage which was the site of an infamous murder in 1826 has been rebuilt, offering people an insight into 19th Century life.
Joseph Hedley, a successful quilter, was stabbed to death in Northumberland.
The crime created so much outcry the government issued a reward notice of 100 guineas for any information about "Joe the Quilter's" killer.
The rebuilt cottages features stones from the original home and is part of in the £18m Remaking Beamish project.
Richard Evans, Beamish's director, said the building offered "a rare chance" to understand what everyday life was like in north-east England at that time.
The notoriety of Joe's death meant a large amount of documents had survived offering an "extraordinary record" of the life of an ordinary man.
The remains of the cottage in Warden, near Hexham, were uncovered during an archaeological dig by Beamish staff and local people.
The museum used a postcard which features a drawing of the cottage as a guide for its restoration.
It's believed Joe lived in the cottage from infancy. He regularly took in travellers and pedlars, so his isolated home became recognised as a local refuge.
Murdered when he was about 76, Joe had outlived his wife Isabel, who was 25 years older than him.
His body was found in the cottage. Surgeons who examined it said they found 40 wounds.
A killer was never caught, but the cottage was ransacked and the assailants might have thought the successful quilter had money.