Early Roman 'horseshoes' dug up from Vindolanda fort ditch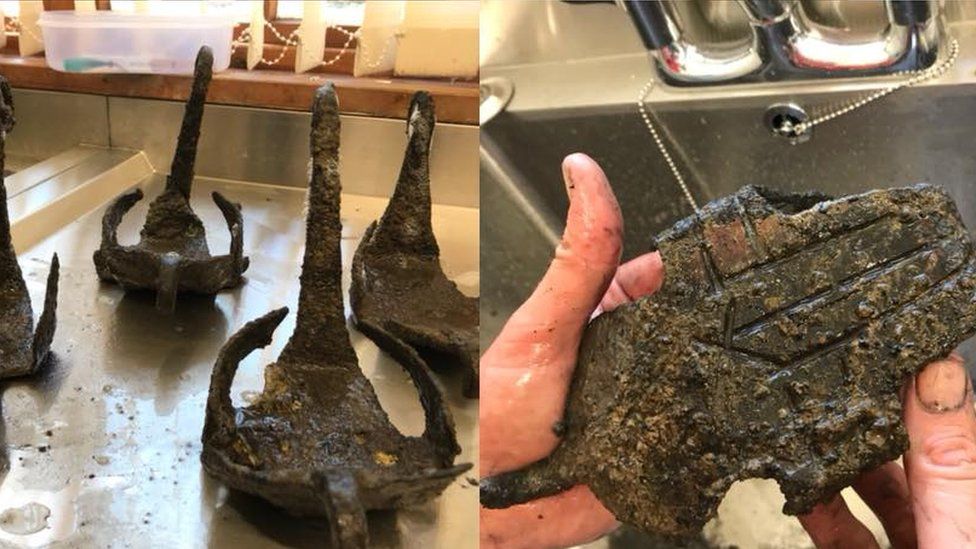 Early Roman "horseshoes" unearthed during an excavation at a fort near Hadrian's Wall are to go on display.
Barbara Birley, curator at Vindolanda, near Hexham, in Northumberland, said it was "incredibly rare" to find a full set of four iron hipposandals.
She said the hoof protectors were so well preserved that their tread to stop horses slipping was clearly visible.
The haul was found by a volunteer - one of 250 who carry out digs at the fort every year.
Because the Romans were in Britain for between 400 and 500 years, Ms Birley said, teams could dig at the site for the next 150 years and still unearth Roman treasures.
"Basically, over the years, nine forts have been built on this site - every time new Roman arrivals came, they covered over the remains from the last fort with clay and turf to make solid foundations for their fort," Ms Birley explained.
"This means things were well preserved. One of the hipposandals has a hairline fracture so the set may have been thrown in the ditch because one was damaged."
The set of hipposandals, dating between 140AD and 180AD, will go on display at the nearby Roman Army Museum, in Greenhead, in February 2019 when the museum reopens.
Related Internet Links
The BBC is not responsible for the content of external sites.