First Kielder Forest sighting of pine marten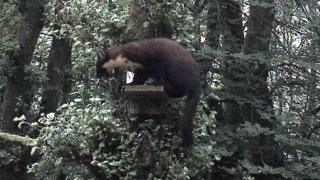 Rare pine martens have been seen in Northumberland's Kielder Forest for the first time since it was planted more than 90 years ago.
Cameras set up to monitor red squirrel movements captured the martens in a remote area of the forest last month.
Conservationists confirmed pine martens had returned to Northumberland in March, but this is the first sighting in the forest.
It has raised hopes that martens are increasing in numbers.
Woodland clearance and culling meant pine marten were confined to a few remote areas of Britain and Ireland by the early 20th century.
Their stronghold is now in Scotland, but experts are hopeful they are beginning to re-establish themselves in northern England.
Protected species
John Hartshorne of the ecology education organisation Albion Outdoors captured the images, describing them as "excellent news".
He said: "This July I have caught some excellent pictures of red squirrels, but also an unexpected visitor - a pine marten, sitting on top of one of the squirrel feeders."
Forestry Commission ecologist Tom Dearnley, said: "As the forest nears 100 years in age, it is increasingly being colonised by rare and protected species.
"Pine martens returning to England, over the Scottish border, has been anticipated for some time, encouraged by the efforts we are making to create ecologically diverse forests.
"We are delighted to see photographic evidence of their return, in a forest valued by so many people."
Simon O'Hare, of Northumberland Wildlife Trust, said: "The natural return of pine martens in areas of northern England is an exciting prospect, as it could have a knock-on effect by suppressing grey numbers, allowing native red squirrels to prosper once again in our woodlands."