Newcastle council wants Mobike scheme to stay on Tyneside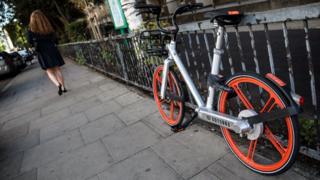 A council has said it wants to keep a bike-sharing scheme on Tyneside after the company that runs it warned it could withdraw due to vandalism.
Mobike UK has said a review of its operations "is currently taking place, but no final decision has been made".
The orange-and-silver bikes were introduced in Newcastle in October before the scheme expanded to cover parts of Gateshead.
However, many have been dumped in the River Tyne or abandoned.
A Newcastle City Council spokesman said it was "keen to see the Mobike scheme stay in the city due to the positive travel choices it provides", according to the Local Democracy Reporting Service.
Her added the Labour-led authority "continues to work closely" with Mobike "to help address the issues they are encountering".
Greg Stone, Newcastle Liberal Democrat transport spokesman, said there were "several flaws" with the scheme and the party would like to see it "modified".
He said: "Unlike London's 'Boris bikes' located at docking stations, Newcastle customers are able to pick up and park the Mobikes much more freely.
"No doubt this is user-friendly, but the downside has been badly parked, vandalised and dumped bikes in public spaces and the Tyne."
Last week Mobike warned it could pull out of Manchester after losing 10% of its fleet each month in a situation it described as getting close to "unsustainable".
The Chinese firm said its cycles had been thrown in canals, set on fire and dumped on industrial estates and pavements.