Boat grounded after Berwick dolphin photographer rescue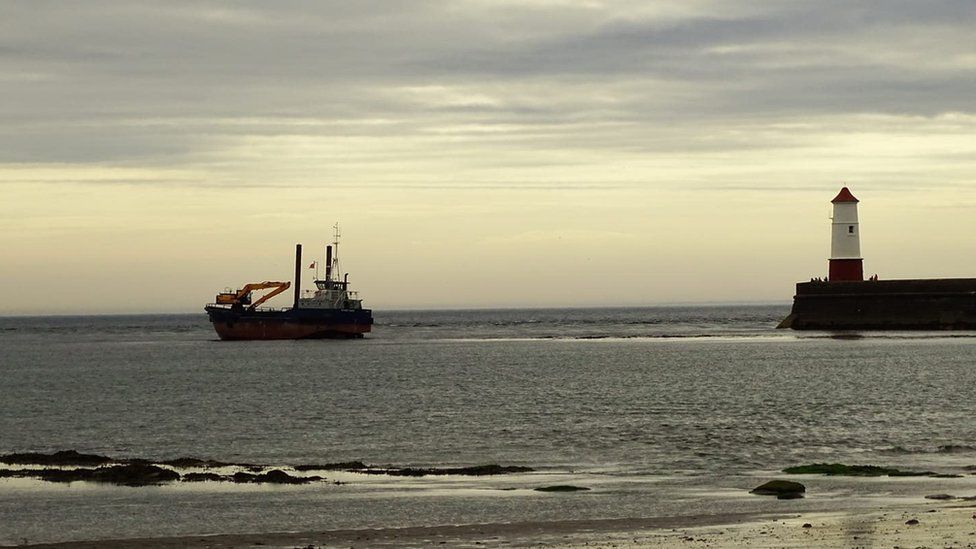 A boat ran aground rescuing a woman who had become stranded trying to take pictures of dolphins.
Crew on the Gypsey Race dredging vessel spotted the woman clinging to the wall of Berwick Pier at about 08:30 BST on Sunday and came to her aid.
The Coastguard said the crew had "undoubtedly saved her life" but then "became an incident themselves".
The boat remains grounded on sand and rocks and will be stuck until the next high tide at about 20:00.
Jolene Smith, from HM Coastguard, said: "The woman fell from Berwick Pier this morning when she was out for an early morning stroll, hoping to catch some photos of dolphins.
"She was in a dire situation and the crew undoubtedly saved her life."
Ms Smith added the boat was "now stuck on a sandbank waiting for the depth of water to increase so that they can re-float their vessel".
Berwick's Coastguard Rescue Team and RNLI crews also helped the rescue effort.
The woman, who had spent an hour-and-a-half in the water, was treated by paramedics back on land.
Related Internet Links
The BBC is not responsible for the content of external sites.