Newcastle City Council anti-Semitism debate disrupted by protesters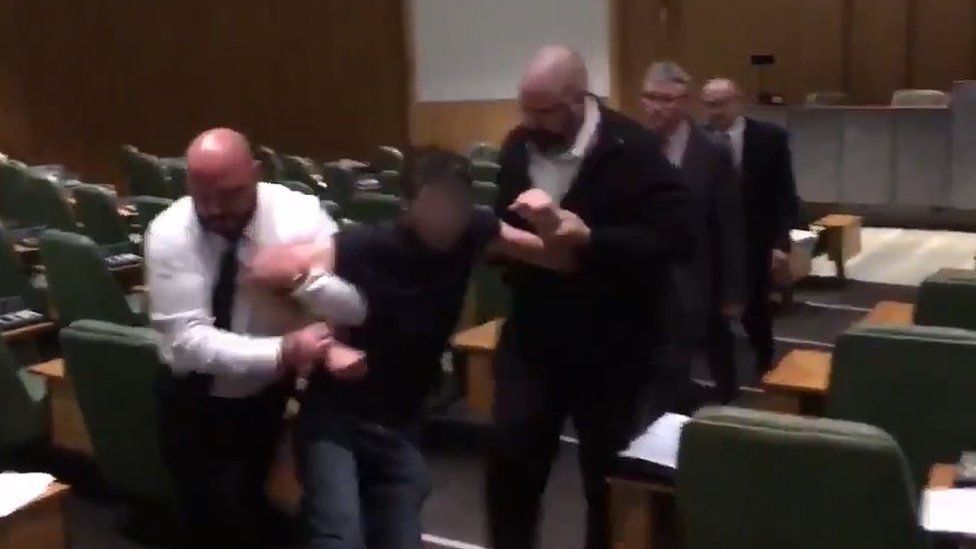 A council meeting on Tyneside had to be halted as protesters disrupted an anti-Semitism debate.
Councillors had to leave the chamber and one of the campaigners was dragged out of the room by security.
The group opposed Labour-led Newcastle Council's adoption of the International Holocaust Remembrance Alliance (IHRA) definition of anti-Semitism.
Council leader Nick Forbes claimed the protesters had carried out "an assault on our democracy".
Councillors walked out during the protest, which was led by the Fight Racism Fight Imperialism group.
People in the public gallery chanted, unfurled Palestinian flags and shouted at councillors during the full council meeting, the Local Democracy Reporting Service said.
As the councillors left the room, one campaigner entered the main council chamber and had to be escorted out by security.
Afterwards, Mr Forbes said: "Many of the councillors felt intimidated, several were in tears during the interval we had and were frightened to come back into the council chamber."
Protesters had gathered outside the Civic Centre for a rally before the meeting and also presented a petition to councillors.
One man from the protest group told the chamber "the state of Israel is a racist state and saying so is not anti-Semitic".
He added his views were "not informed by hatred" of Jewish people but by "solidarity with the people of Palestine".
When councillors returned after about 25 minutes, the motion was passed unanimously.
Related Internet Links
The BBC is not responsible for the content of external sites.