Victims of 1826 Ryton pit disaster get memorial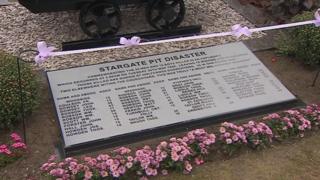 Victims of a Tyneside coal mine explosion almost 200 years ago - some as young as 10 - have been remembered with the unveiling of a new memorial.
In the early hours of 30 May, 1826 an explosion at the Stargate Pit in Ryton, Gateshead, killed 20 men and 18 boys.
Among the dead was a boy aged just 10, and 11 people with the surname Robson.
Now a memorial has been unveiled close to where the pit stood, which includes - for the first time - the names of all those who lost their lives.
In 1993, a memorial stone to mark the disaster was placed in the grounds of nearby Holy Cross Church.
It had a biblical quotation, but not the names or ages of those who died.
Peter Rogers, secretary of Brighten Ryton Heritage Group, which led a £5,000 appeal to pay for the new memorial, said those who died had been "largely forgotten" over the years.
He said: "They weren't considered worthy to be mentioned by name before.
"These men and boys were only ever mentioned in the local papers of the time and not even on the tombstone in the cemetery.
"I think the area and its community who supplied the labour for the mines deserve to know what these men and boys gave - their lives.
"We want to instil a sense of pride in the area and in the local schools here in our heritage which we hope will last."
The pit, which was also known as Towneley Main Colliery, was sunk in 1800 and finally closed in 1961.